Space Surveillance and Tracking Services - Atmospheric Estimates for Drag Calculation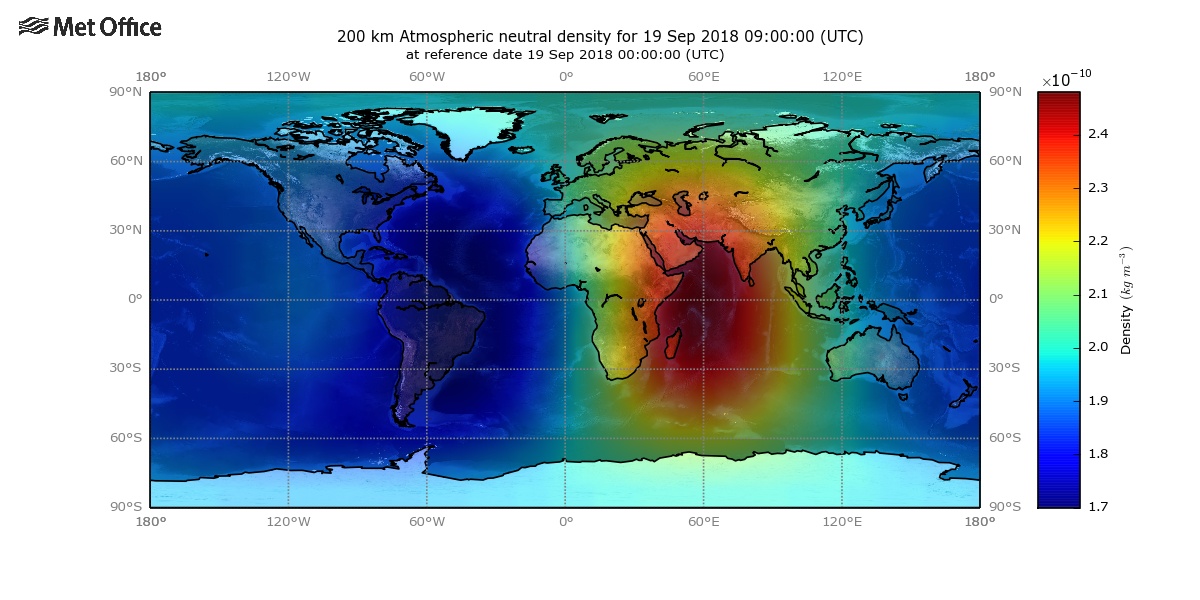 Atmospheric neutral density
provided by UK Met Office.
The service "Space Surveillance and Tracking Services - Atmospheric Estimates for Drag Calculation" aims to provide estimates of atmospheric density. The estimates include high altitude atmospheric density estimate for the past year, atmospheric density forecast and relevant environmental data for the user to compute drag of spacecraft below 1500 km altitude. These are specific forecasts and prior estimates of thermospheric total neutral density in the altitude range 120 – 1500 km. Additionally, this service provides indices and forecasts of geomagnetic and solar activity. It also provides ionospheric forecasting and archive.
This service addresses the needs of space surveillance and tracking users. This includes primarily the users of surveillance and tracking centre(s), stations and services, spacecraft operators (also spacecraft operators service domain), collision warning services and re-entry risk assessment services.
This service is implemented through a combination of products, tools and alerts which can be found through the following tabs along with expert support provided by the teams constituting the SWE Network. Should you require further guidance in the use of this service, or have specific questions about any aspects of the service presented here, don't hesitate to contact the Helpdesk.
The service is implemented through the following set of assets:
Atmospheric Density Estimates for SST users (ATMDEN) provided by UK MetOffice;
Nowcast and Forecast of Geomagnetic and Solar Activity Indices for SST users (FORIND) provided by the Romanian Institute of Space Science (ISS);
Archive of solar and geomagnetic indices (SGIArv) provided by Space Research Centre Polish Academy of Sciences (SRC);
Space Weather bulletin of the Solar Influences Data Analysis Center (SIDC) provided by the Royal Observatory of Belgium (ROB);
Ionosphere Monitoring and Prediction Center (IMPC) provided by the German Aerospace Center (DLR);
European Ionosonde Service (EIS) provided by National Observatory of Athens (NOA);
Forecast of geomagnetic index provided by the Swedish Institute of Space Physics (IRF Lund);
COMESEP alert of geomagnetic storm provided by the Royal Belgian Institute for Space Aeronomy (BIRA-IASB);
Geomagnetic storm alert and prediction provided by Universidad de Alcalá (UAH);
SPENVIS Atmospheric and ionospheric models provided by ESA;
Nowcast and forecast of geomagnetic indices provided by the British Geological Survey (BGS);
Geomagnetic index provided by the Technical University of Denmark (DTU);
Geomagnetic indices (Kp, Ap, Hp30, Hp60) provided by the German Research Centre for Geosciences (GFZ);
Swarm Utilisation Analysis Ionosphere (SUA I) provided by the German Research Centre for Geosciences (GFZ);
Swarm Utilisation Analysis Geomagnetic conditions (SUA G) provided by the German Research Centre for Geosciences (GFZ).
This service page is curated by the ESC Ionospheric Weather.  For further information, please contact SSCC Helpdesk. 
Overview
The interaction between satellite and Earth's upper atmosphere over a long period of time can significantly modify the satellite orbit. Therefore, atmospheric density models are required in the computation of the atmospheric drag force to support the determination and prediction of satellite orbits. This service provides estimates of neutral density based on an atmospheric model.
The neutral density fields are based on the semi-empirical model DTM2013, which uses solar and geomagnetic indices as input proxies of thermospheric heating. The atmospheric density service uses the following indices from ESA SWE Service Network as input to the DTM2013 model.
Solar index:
Forecast (FORIND): F30 Index Forecast Absolute 30-day (CLS)
Measured (SGIArv): F30 (absolute)
Geomagnetic index:
Forecast (FORIND): ap Index Forecast 3-day (BGS), Ap Index Forecast 27-day (BGS)
Measured (SGIArv): Definitive Ap index
Application
These services are expected to be used by a variety of users including:
Academics investigating and modelling the upper atmosphere
Commercial satellite operators
ESA/ESOC/S2P SST segment/Space Debris Office and Flight Dynamics
Third party service providers
These all feed into a wider issue of risk management for flight dynamics teams.
Key Products
Atmospheric Density Estimates for SST user (ATMDEN)
The data products provide 3D characterisation of the neutral atmosphere thorough the provision of global horizontal data-layers (2D) at a given time. The atmospheric density products consist of neutral density fields covering:
3 Day forecast (based on forecast 3-hourly ap index and F30)
27 Day forecast (based on forecast daily Ap and F30)
12 month (prior) estimate (based on measured Ap and F30)
The atmospheric density maps are calculated at the following altitude levels: 120, 140, 160, 180, 200, 220, 240, 260, 280, 300, 350, 400, 450, 500, 550, 600, 700, 800, 1000, 1500 km.
Contact
For further information, please contact SSCC Helpdesk. 
The following products are associated with this service:
Atmospheric neutral density
Geomagnetic indices, forecast
Geomagnetic indices, archives and reconstruction
Solar activity, forecast
Solar activity, archives and reconstruction
Other indices,archives and reconstruction
Ionospheric density, forecast
Ionospheric density, archives and reconstruction
Tools associated with this service:
The AMDA system provides an archive of planetary, solar wind, Earth magnetosphere and ionosphere mission and ground based products. In addition it supports a range of standard models such as magnetic footprints, magnetic fields, solar wind propagation to planets and probes as well as access to external databases of observations and simulations. A key functionality of the system is its embedded plotting, data mining and cataloguing functionalities which are extremely useful in relation to posteriori analysis.
The H-ESC statistical products tool allows the calculation of statistical parameters and event lists based on long time series of data such as solar wind parameters.
Archive of solar and geomagnetic activity indices for thermospheric drag calculation.
No alerts are associated with this service.
This section provides links to web pages or resources that are not part of the ESA Space Weather Network or esa.int domain.  These sites are not under ESA control and therefore ESA is not responsible for any of the information or links that you may find there. 
Reference documents