Non-Space System Operation - Service to power systems operators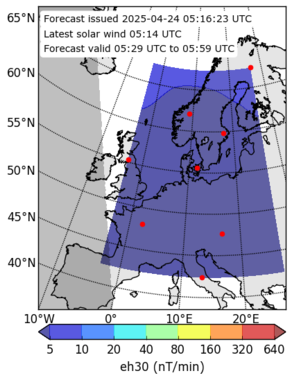 Current image from the product dB/dt forecast.
30-minute maximum forecast for
the rate of change of the magnetic field.
For power grid operators the major challenge caused by space weather is the geomagnetically induced currents (GIC). In technological conductor systems GIC are caused by rapid variations of the geomagnetic field (dB⁄dt). They can disturb the normal operation of the systems, for example, by creating transformer saturation in power grids. In the worst case, GIC can even lead to blackouts or transformer damages in high-voltage power grids. Real-time monitoring of GIC can be based on ground magnetic field recordings from which GIC can be modelled in power grids. Short-term forecast is based on the modelled rate of changes of the geomagnetic field (dB⁄dt), which is closely related to GIC.
This service is implemented through a combination of products, tools and alerts which can be found through the following tabs along with expert support provided by the teams constituting the SWE Network. Should you require further guidance in the use of this service, or have specific questions about any aspects of the service presented here, don't hesitate to contact the Helpdesk.

This service page is curated by the ESC Geomagnetic Conditions. For further information, please contact SSCC Helpdesk. 
GIC are determined by using near real-time ground magnetic field recordings and models of specific conductor systems. The purpose of this service is to give a general overview of GIC activity.
The products for interplanetary medium at L1 give forecasts and real-time data for solar wind properties. The products for Earth magnetosphere include geomagnetic indices that as such provide information on the current geomagnetic conditions. To assess in more detail the magnitude of possible disturbances in power grids, the products for Local Geomagnetic Induced Geoelectric Field include maps for power and pipeline operators mainly for the scandinavian sector. As the regional measure, the sum of GIC at all substations of a power grid is used. This value is considered to be large when it exceeds a threshold corresponding to the top 0.1% of all values in long-term statistics. This is indicated in the plots by red colour. GIC in the natural gas pipeline are basically modelled in the same way as in power grids. Its measured value is also shown.
The following quantities are shown on interactive maps via the FMI product link for the previous hour: the interpolated ground magnetic field and its rate of change, and the modelled geoelectric field. Additionally, snap shot maps illustrate the time step at which the GIC sum reached its largest value within the latest 24 hours. For the magnetic field, these maps also show measured values. There are specific points to be understood when using this service:
The models of the power grids do not describe the exact present configurations.
The ground conductivity models for calculating the geoelectric field are approximate.
However, the use of fixed models of the grids and of the ground conductivity ensures that GIC activity is characterised in a meaningful, quantitative way. In other words, if this service indicates a high GIC level in the demo grids then large GIC occur in the true grids too.
The service also includes regional products focussing on mid-latitudes. The Local Current index for Spain provides an indication of regional geoloeletric disturbances that can be used as proxy for GICs. This product is connected to a colour-coded scale that facilitates the communication of the results in terms of levels of disturbance. Users can also subscribe for geomagnetic disturbance alerts and regional reports via the University of Alcalá (UAH) product link.
Horizontal electric field data and horizontal magnetic rate of change, derived from the measurements of three magnetic observatories in UK, are provided by BGS within this service.
A collection of magnetogrammes covering North Europe and Greenland is provided by the Technical University of Denmark (DTU).
Interplanetary medium at L1
Interplanetary Magnetic Field (IMF)
Earth magnetosphere
AZ index
Geomagnetic activity index for auroral zone (AZ), last 33 days
AZ index, long term variation
Geomagnetic activity index for auroral zone (AZ), long term variation
Local geomagnetic forecast
Short term (1 hour) local geomagnetic forecast
Earth atmosphere and geomagnetic environment
Local External Magnetic Field on Ground
Real-time and historic geomagnetic activity plots and data files for geomagnetic surveying (total field)

Real-time and historic geomagnetic activity plots and data files for directional drilling (total field, declination and inclination)
SWE Data is a web application that provides access to a wide range of Space Weather related data sources covering the areas of the spacecraft, ionospheric, and ground effects. SWE Data allows the user to access all data contained in the repository providing analysis and visualisation tools from these disparate sources.
The following alert is associated with this service:
This section provides links to web pages or resources that are not part of the SSA Space Weather Network or esa.int domain. These sites are not under ESA control, and therefore ESA is not responsible for any of the information or links that you may find there.  
Reference documents