Non Space Systems Operation Services - Service to resource exploitation system operators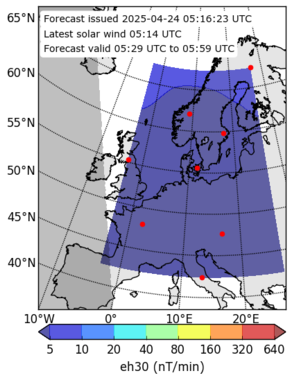 Forecast of 30-minute maximum |dB/dt|
In this service, near real-time information about geomagnetic disturbances which primarily affect directional drilling and aeromagnetic surveys, and ionospheric disturbances which primarily affect GNSS-based activities is unified. Resource exploitation activities that can be sensitive to space weather effects include offshore drilling and surveying activities. In more general terms, any resource exploitation activity depending on accurate recordings of Earth's magnetic field and some position in the air or on the Earth surface will at times experience challenges related to space weather.
This service is implemented through a combination of products, tools and alerts which can be found through the following tabs along with expert support provided by the teams constituting the SWE Network. Should you require further guidance in the use of this service, or have specific questions about any aspects of the service presented here, don't hesitate to contact the Helpdesk.
Directional Drilling
Directional drilling means making boreholes in Earth's surface which are not vertical. This is today a standard procedure in the petroleum industry. The largest horizontal extent of a well so far is approximately 12 kilometres. The trajectory of a well should be determined as exactly as possible. This is done by measuring the length of the borehole and its direction compared to the gravitation and magnetic fields at short intervals.
Variations in Earth's magnetic field generated by electric currents in the ionosphere and magnetosphere are highly space weather dependent. The petroleum industry typically aims on knowing the magnetic field within 0.1 degrees in the declination, 0.05 degrees in the inclination and 50 nT in the field strength. During magnetic activity in the Polar Regions deviations in the field of several degrees in direction and hundreds of nT in field strength are often experienced. Monitoring the magnetic disturbances field and possibly correct for them are thus of considerable importance to achieve precise wellbore trajectories.
The regions exposed to the effects of the polar magnetic disturbances where petroleum exploitation is performed includes the North Sea, Norwegian Sea, Barents Sea, North-West Russia and Alaska.
Magnetic monitoring during directional drilling affects economy as well as safety:
Helps the drilling operator to discriminate between an instrument error and a natural cause when the data from the well signal an error. This helps reducing the number of costly pull-outs of the drill string.
Reduces the risk of collisions between wells, an incidence that may be costly and even catastrophic.
Increases the output of the reservoir by entering it from an optimal direction.
Wells out of control (blow-outs) should not happen normally, but when they do happen, a relief well may be needed to stop it. Precise navigation is then critical.
Geomagnetic Surveys
Magnetism is one of several properties of Earth's crust helping to understand its structure and thereby locate possible natural resources. Magnetic surveys to produce maps of the magnetic field are standard procedure when searching for mineral resources as well as oil and gas, at land as well as offshore. In the petroleum industry maps of the magnetic field are also important in order to improve well-bore navigation (see above). During an aeromagnetic survey the magnetic field strength is measured with a total field magnetometer onboard an airplane or towed under it. The survey is carried out by flying a network of parallel straight lines over the selected area.
Aeromagnetic surveys are subject to disturbances in the magnetic field created by currents in the ionosphere and magnetosphere and ionospheric irregularities giving rise to uncertainties in space based positioning systems, and thus space weather is of interest for the surveying operation. To keep track of the unwanted variations and disturbances reference magnetometers is required in or near the area being surveyed.
Positioning
Both magnetic surveys and drilling operations, depends on accurate recording and monitoring of the position of the measuring platform and drill rig. Therefore it may be useful to combine ground based magnetometer data as discussed above with precise positioning from GNSS services (TIO services).

This service page is curated by the ESC Geomagnetic Conditions. For further information, please contact SSCC Helpdesk. 
Users of this service are resource exploitation companies and entities that are working with such companies or are generally performing mapping campaigns to search for natural resources. The products targeted toward the resource exploitation domain provides alerts and information on the local external magnetic field measured on ground and local geomagnetic induced geoelectric field. Some of the main products directed towards the resource exploitation companies are the following:
For Spain and the surrounding area automatic e-mail warnings for geomagnetic storm occurrence – alerts when predictions exceed |50nT| in a Dst index forecast UAH-SWE Subscription by The University of Alcalá (UAH), and for geomagnetic storm recovery phase predictions.
SIDC Latest human moderated alert, by the Royal Observatory of Belgium (ROB), provides alert texts triggered by a forecaster on duty.
For UK the geomagnetic activity alert, by The British Geological Survey (BGS).
For UK Horizontal electric field data and horizontal magnetic rate of change, derived from the measurements of three magnetic observatories in UK, are provided by BGS
For Sweden forecast of dB/dt, by the Swedish institute of Space Physics (IRF). Containing a map with forecast dB/dt values in nT/min.
For North(West) Europe and Greenland, a collection of magnetogrammes (with data from several experts groups in G-ESC) covering North Europe and Greenland is provided by the Technical University of Denmark (DTU).
In addition, this service includes important data products on the Earth atmosphere and geomagnetic environment, as well as the ionospheric, thermospheric and atmospheric conditions, and solar wind conditions (interplanetary medium at L1).
Interplanetary medium at L1
Interplanetary Magnetic Field (IMF)
Earth magnetosphere
Local geomagnetic forecast
Earth atmosphere and geomagnetic environment
Local External Magnetic Field on Ground
Local Geomagnetic Induced Geoelectric Field
Ionospheric, thermospheric and atmospheric conditions
Vertical Total Electron Content Map
TEC and Err(TEC) nowcast modelled maps

 

TEC and Err(TEC) nowcast modelled values at a given location

 
SWE Data is a web application that provides access to a wide range of Space Weather related data sources covering the areas of the spacecraft, ionospheric, and ground effects. SWE Data allows the user to access all data contained in the repository providing analysis and visualisation tools from these disparate sources.
The following alert is associated with this service:
This section provides links to web pages or resources that are not part of the ESA Space Weather Service Network or esa.int domain. These sites are not under ESA control, and therefore ESA is not responsible for any of the information or links that you may find there.  
Reference documents