GEOSHAFT
Spacecraft Hazard And Anomaly Forecasting Tool
Developer
QinetiQ
Technical Group
Spacecraft & Aircraft
SDA objective
Provision of real-time space radiation threat information and determine hazardous conditions in space.
Delivery of different alerts and forecasts to different users via e-mails, faxes, SMS or a client viewer
Products
Pages with images and figures

Email, fax, and SMS messages to registered users based on alerty criteria.
Link to Project WebSite
The GEOSHAFT website is currently not operational. If you are interested in this service or need further information please contact Keith Ryden
SDA description
INTRODUCTION
Geostationary (GEO) satellites continue to suffer from operational anomalies caused by internal charging, a direct consequence of space weather. Current evidence points to internal charging being the cause of the major fraction of GEO environment-induced anomalies. GEO satellite operators thus require:

Improved, readily accessible information on orbital charging conditions so that fast, accurate anomaly diagnosis can be carried out (this leads to better corrective actions)
Hazard warnings ahead of time so that risk-reduction activities can be considered such as delaying non-urgent actions and increasing operator alert status.

 

Image courtesy of QinetiQ
PROPOSED WORK
QinetiQ proposes the development and maintenance of a service which will monitor and predict the hazard from internal charging to satellites in geostationary orbit. The proposed service is a web-based tool with the following core capabilities:
Real-time capture of 5-minute GOES electron data
Real-time calculation and display of running averages of electron flux based on time-scales associated with internal charging
Real-time calculation and display of internal charging currents for a set of shielding levels
Real-time calculation and display of charging levels for a set of typical materials
Short-term (a few hours) forecasts of hazardous conditions 
Sending of alerts by e-mail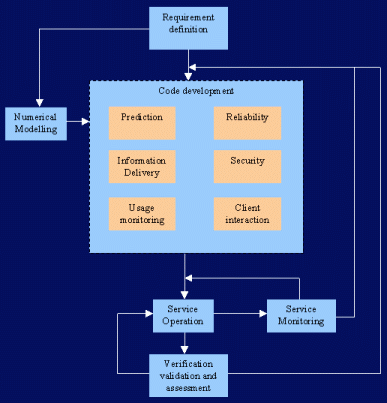 The different data products are designed to provide valuable information to the users on a number of levels depending on the knowledge the user has of susceptible dielectric components within their spacecraft.
The key aims of the space weather service are to improve anomaly diagnosis and to be a more focussed hazard warning service than hitherto available, leading to reduced risks for satellite operators in the short and long term.
The project will make use of the SHAFT tool which is already providing space environment data to anomaly support engineers. Development of this tool will enable it to be used as a public Space Weather service.
In addition to the above functional capabilities there are additional practical requirements e.g. handling internet links being down; handling bad or missing data. The tool will present its data by updating web pages on a publicly visible web site and by e-mail alerts. If considered useful, other alert distribution methods may be implemented. 
This proposal emerges from a partnership between the QinetiQ, as service provider and two major GEO satellite operators. Other GEO satellite operators will be contacted with the aim of expanding the potential number of users, increasing awareness and receiving maximum feedback
WHAT IS SHAFT?
The Spacecraft Hazard and Anomaly Forecasting Tool (SHAFT) is a Java based application designed to provide real-time space radiation threat information. SHAFT's main features are as follows: 
Internet data capture - interrogating remote web and ftp sites, interpreting data files, transferring captured data to its own files
Data processing - data error detection and handling, data averaging, physical modelling and numerical prediction
Presentation of results - production of web pages, sending of alerts, interaction with client viewers.
SHAFT has been designed to be a flexible tool that can be modified according to the type of data that has been requested by the user. Additional processing modules can be easily added and data capture can be easily transferred from one web site to another.

SHAFT acts as an expert system. As well as collecting data, it performs processing that a user would have to perform on the data. It can then apply user-defined rules to the data to determine whether a hazardous condition exists. All this could be done by an expert user him/herself but would be excessively repetitive and time consuming.

Flow Diagram of proposed service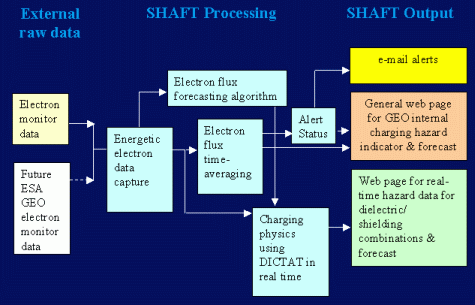 SERVICE PROVISION
SHAFT permits information delivery to be provided by a number of means - web content, via a client desktop viewer, e-mail, fax and text messaging.
The primary output from the service will be published web content. This will be dynamically generated in response to SHAFT outputs and user inputs. The web site will be publicly available with an additional area available via registration. The majority of the information will reside on an open web site. This information will be generic and presented in a clear and interesting fashion.
Contact / Manager
Keith Ryden
Address:
Space Department, QinetiQ
Cody Technology Park
Ively Road
Farnborough, Hampshire, GU14 0LX
E-mail:
karyden@qinetiq.com
Telephone:
+44 (0) 1252 392693